If you are like me, you tend to repeat the same outfit over and over again. I keep on finding myself asking, what articles of clothing I can mix and match? 99% of the time I'm in all black, and I have acquired some new chic black pieces, like these cargo pants with the statement zippers. During Autumn, layering is one of the best things you can do; logic-wise and style-wise.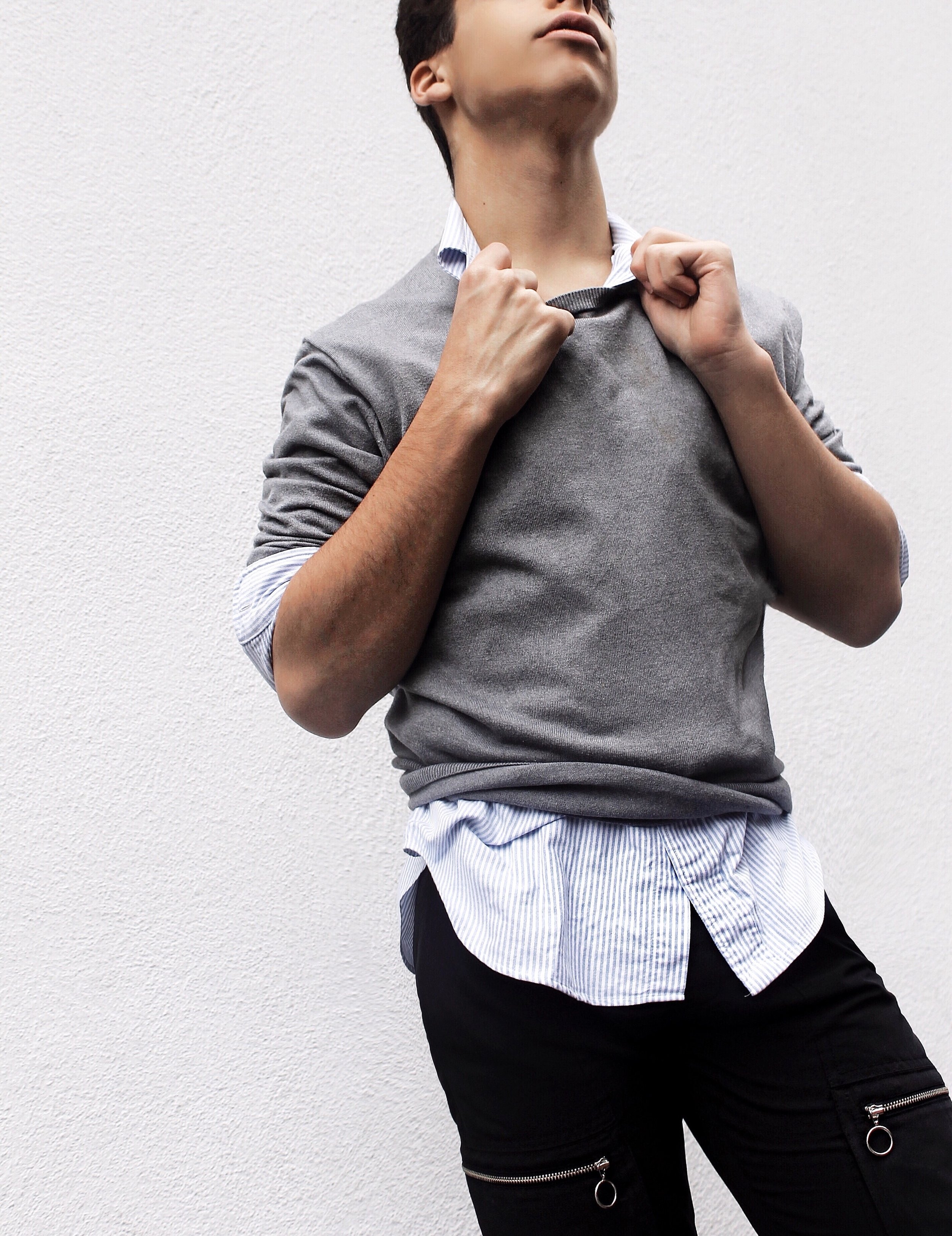 Classic Top with Versatile Bottom
I started with my base - the black pants which are relatively "street style", if you will. Keeping it in the neutral family, I selected a grey fitted sweater, although the outfit seemed bland. I added a pair of red "sock sneakers" to give the outfit a bright pop, but something was seemingly missing. I was staring at my closet going over what I could layer that could still be polished yet casual. The epitome of effortless chic is looking put together with modern elements; such as red sneakers and zippers on your pants.
Play with unexpected colors, styles, textures.
I soon picked a blue and white striped button down is a classic piece that you can wear on the beach during Summer, or under a cashmere pullover in Fall. The texture and structure gave it a street style vibe when it was complementing all the other articles of clothing, as the collar and timeless pattern essentially put together the whole look.
When shopping, I always try to picture five completely different ways I could style that piece of clothing, and if I can't do that then it's not worth it. The great thing about staying within the same color family with your clothing is that everything in your closet most likely will match. The days of wearing the same black ripped jeans three days in a row are gone, incorporating different vibes creates a new vibe, and that vibe is you. At the end of the day, remember you wear the clothes, not the other way around.
Let me know what you guys think in the comment section down below! Any feedback, suggestions, tips, and more. Hope you enjoyed this post. Stay Ruff!